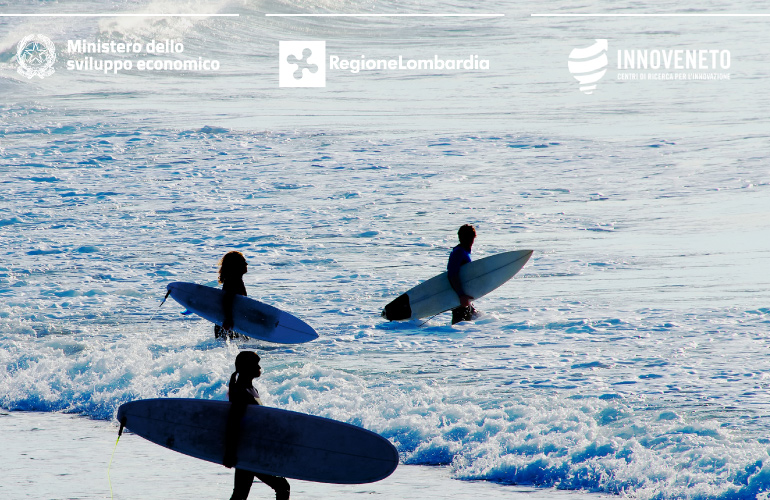 Voucher MISE, Italian Ministry of Economic Development
Since 2015, MISE, the Italian Ministry of Economic Development, has provided grants to support the internationalisation of SMEs by way of vouchers, which require the intervention of qualified service providers and expert such as TEMs, temporary export managers.
Since the first call of 2015 Socialsurf has managed to qualify as a company accredited by MISE as a provider of internationalization services.
Thanks to Socialsurf, 8 companies in the MISE 2015 call and 24 companies in the MISE 2017 call were awarded the grant 
The voucher is a non-repayable contribution in favor of all those micro and SMEs that intend to develop their businesses on foreign markets. Companies must apply to a service provider company ("Actuator") by choosing it from those accredited, included in the specific list published on the Ministry website. The service contract, stipulated with one of the aforementioned subjects, must have a minimum duration of 6 months. The voucher is for an amount of 10,000 euros, against a service contract of at least 13,000 net of VAT.
Socialsurf has also qualified for the next 2017 call, which has similar aims but a wider scope of measures. The most important innovation has been the "advanced stage" instrument, which on a project value of € 25,000 provides a Voucher of € 15,000 plus an additional € 15,000, if the company proves to have increased its foreign turnover of at least 15% thanks to the project.
In these two calls of the MISE voucher, Socialsurf and its TEM have  supported more than 30 projects, from companies from all over Italy. 
In 2019 MISE launched the Innovation Manager Call, where 7 client companies were awarded the grant.
SACE SIMEST (Cassa Depositi e Prestiti Group)
Socialsurf has been accredited to provide the TEM service by SIMEST, a development finance company that supports the growth of Italian companies through  subsidized loans for internationalisation.
In 2020 we helped 6 client companies to enter the financing process (some of them have already obtained the requested funds), others are in the approval phase).
Socialsurf has also been included in the SACE website as accredited service company in providing the TEM service.
Lombardy Region
Socialsurf provides companies also with assistance on facilitated finance and grants at regional and local level.
In 2019 and 2020 we helped client companies in obtaining grants in the Circular Economy Supply Chain Innovation Call, issued by Lombard Chambers of Commerce Union and in the Digital Export Development Call, issued by Promos- SMEs Internationalisation Agency.
In 2016 Socialsurf has been accredited as qualified implementing service company in the EBM -Export Business Manager issued by Lombardy Region. In this call, Socialsurf and its experts have supported various Lombard companies in their export projects.
In 2020 Gaetano Bonfissuto has been qualified as Innovation Area Digital Expert to provide specialist assistance, by Formaper, the training Agency of the Milano-Monza-Brianza-Lodi Chamber of Commerce.
Since 2020 Socialsurf has been accredited as Industry4.0 qualified implementing service company in the Digital Experince Center website by the Lombard Chambers of Commerce Union. 
Facilitated finance and grant tools service
Socialsurf provides client companies with assistance on facilitated finance and grants  (Italian and European tenders), from  feasibility study, project draft and submission of application, up to the final reporting, leading the company to obtain the grant.
Innoveneto Service - Veneto Region
Socialsurf has also been included in the registered export services providers in Innoveneto, the Veneto Region service for innovation and technology transfer.
If you are interested in internationalisation vouchers and to participate in future calls of the MISE, Lombardy Region, or other local tenders, contact us!